home
Hagio
Ooshima
Yamagishi
Yoshida
Okazaki
Ima
Yoshinaga
---

Hagio Moto List of titles List of books Synopses
---
Poe Home
---
Poe no Ichizoku


Sukitootta Gin no Kami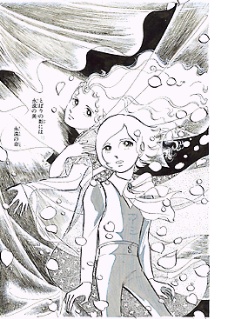 In the spring when I was fourteen, I studied everyday with a tutor. When my elder sister began to play a sonata in the afternoon, the tutor told me to read the textbook and got out of the room. Then I got out of my house and walked around the town.
I heard a girl singing "There once lived a girl who had transparent silver hair…….".
I saw a girl standing in the garden.

I: When did you arrive here?
Marybell: Two days ago. My name's Marybell.
Charles: I'm Charles, 14 years old.
Marybell: You are of the same age as Edgar, my elder brother.

My parents talked about the family that evening. My mother said they were weird. My father speculated they were poor aristocrats.

The next day, my sister didn't play the piano in the afternoon and the tutor seemed irritated. He suddenly got out of the room and I got out through the window and went to see Marybell. I asked her to talk about herself. She said she had forgotten about her childhood. I talked about myself. I said I had been born and grown up in the town, that I had an elder sister, that I loved spring in all the seasons, and that I loved her the most at the moment. When I tried to kiss, a boy called Marybell from the window. It was Edgar. He told Marybell to get into the house because evening wind was not good for her health. He looked at me with his cold blue eyes and said "See you tomorrow." He looked as if he was 100 years older than I.

Our maid asked me if I played with the daughter of strange family. She said all the windows of the house of the family were closed and no sound came from it. She also said the priest had seen a tall man walk toward the house in midnight.

I didn't like Edgar keeping an eye on us when Marybell and I were talking in the garden. I asked her why they didn't open the windows. Marybell said it was better because they didn't stay at the same place so long and didn't love the town or people. She said they were always traveling and would leave the town someday. I told her not to go because I loved her very much.
Marybell began to sing. "There once lived a girl who had transparent silver hair. Since she was too beautiful, God stopped the time of hers. So she will live in the eternity tomorrow, tomorrow, and tomorrow, with her hair blowing in the wind. She stays a girl forever."
Marybell said the song is a lullaby that Old Hannah sang for her and Edgar. She said her current parents adopted Edgar and her after Hannah had died.

Marybell left the town with her family before the spring ended. The next morning, our parents were very surprised to find out that my sister eloped with my tutor. I regretted that I hadn't eloped with Marybell.

Thirty years passed. When I was walking home with a bouquet that I bought for the silver wedding anniversary, I saw a girl who looked like Marybell's replica.

I: Excuse me, young lady. You must be a daughter of a woman that I knew. Your mother must be Marybell.
Marybell: I don't know. I am Marybell. I don't know very well about my birth mother.
I: I knew your mother. I was a boy then.

Marybell smiled to me.

I: Is it funny that a middle aged man talk about his first love?
Marybell: Not a bit. It was an old story.
I: Yes, it happened 30 years ago. I learned a song like this……..

I began to sing . "There once lived a girl who had transparent silver hair……."

Marybell: I know the song.
I: Who taught it to you?

I was very surprised to see the boy who called Marybell.

Marybell: Edgar is calling me. I have to go now. Good-bye!
---
Poe Home
Marybell to Gin no Bara
Sukitootta Gin no Kami
Evans no Isho
Poe no Mura
Poe no Ichizoku
Penny Lane
Piccadilly Shichiji
Harukana Kuni no Hana ya Kotori
Holmes no Boushi
Isshuukan
Glen Smith no Nikki
Lidelle Mori no Naka
Kotori no Su
Rampton wa Kataru
Edith
---

more synopses of Hagio Moto titles
Thoma no Shinzou
Onshitsu
Marine
Roma eno Michi