home
Hagio
Yamagishi
Ooshima
Yoshida
Okazaki
Yoshinaga
---
Ima Ichiko
Ima Ichiko was born in April 11 in Toyama. She says she was born in 196X, and I speculate she was born in 1960. She worked as an assistant for 12 years before her professional debut. She made her professional manga debut in Comic Image with "My Beautiful Green Palace" in 1993. She mainly writes in rather minor shougyoushi such as Nemuki and Hanaoto. She is becoming more and more popular. Nemuki 1999 October zoukan and Puff 2000 July issue featured her.
She still writes in doujinshi. The name of her circle is "Nanatsunoko Gasshoudan".
Nemuki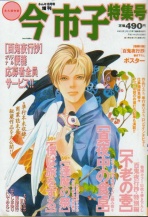 Puff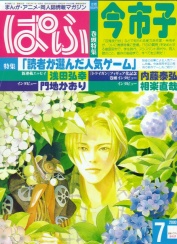 Newly published
"Rakuen made ato mou chotto vol.1" published by Houbunsha on March 15, 2002.

Kawae Tsutomu is asked to work as a president of a travel agency by his ex-wife because her father has been hospitalized. The travel agency has a debt of 5 million yen. Asada works for the loan company that lent the 5 million yen. He is a lover of Kikuchi, who is the owner of the loan company and has a wife. Asada moves to a new flat. He finds out that the nextdoor neighbor is Kawae Tsutomu. Kawae's hobby is mountain climbing. He makes a new plan of mountain climbing tour for the travel agency. Asada climbs a mountain with Kawae to judge if the plan is good or not.
"Ashinaga Ojisantachi no Yukue vol.2" published by Houbunsha on September 13, 2000.

"Ashinaga Ojisantachi no Yukue " means "Where are my Daddies-long-legs?" Kasuga grows up at an orphanage. Even though five people send money and letters to him until he leaves the orphanage at the age of 15, he doesn't know who they are and why they supported him. He looks for them. He meets Natsumi, who is one of them. Kasuga meets Yasuhiro, who is also a 15-year-old boy, at Natsumi's place. Natsumi used to be Yasuhiro's mother's husband. Yasuhiro is in love with Natsumi and wants to live with him. Natsumi, Yasuhiro and Kasuga end up living together.
List of Titles

List of Books

synopses (2 titles)