home
Hagio
Ooshima
Yamagishi
Yoshida
Okazaki
Ima
Yoshinaga
---

Hagio Moto List of titles List of books Synopses
---
Poe Home
---


"Poe no Ichizoku" Overview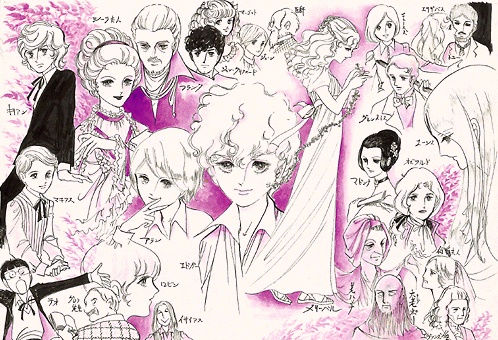 "Poe no Ichizoku" has 15 episodes. The story begins in 1744, but as you can see from List of Hagio titles, Hagio Moto didn't write the episodes in chronological order.

Edar and Marybell were illegitimate children of Earl Evans. They were abandoned in the forest and discovered by Old Hannah, who was a Vampanella, which means a vampire in "Poe no Ichizoku". Old Hannah brought them up. When Edgar was eleven, he got to know the secret that Old Hanna and people in the mansion were Vampanellas. He was forced to promise he would turn into a Vampanella, a family member of Poe, when he became an adult. He parted with Marybell, who was adopted. When he was 14 years of age, Old Hannah was killed by a villager and the villagers got to know the secret of the mansion. Edgar was taken into the family of Poe before the family escaped from the villagers.
Three years later, Earl Evans' eldest son Oswald met Marybell and Edgar. Knowing Edgar was a Vampanella, Marybell decided to kill him. However, she changed her mind when she knew Edgar kept being nice and loving her very much. Edgar took her into the family of Poe. (Marybell to Gin no Bara)
People in the family of Poe get energy from roses and humans. Edgar and Marybell lived with Baron Portsnel and his wife Shiela as their children. They were not able to stay in a place for many years because Edgar and Marybell stayed 13 and 14 years old. (Sukitootta Gin no Kami)
In 1820, Edgar lost his memory in an accident and met Henry Evans, who was Oswald's grandson.(Evans no Isho)
In 1865, Glen Smith met Edgar and Marybell in the village of Poe, where people raised roses. He wrote about it in his diary. (Poe no Mura) His youngest daughter Elizabith moved to Germany with the diary. Her granddaughter Margrid wrote a short story based on the diary in 1960. (Glen Smith no Nikki)
In 1879, the Portsnels moved to a town to get a new member. Edgar met Allan there for the first time. After Edgar lost Marybell, Baron and Shiela on the same day, he took Allan into the family. (Poe no Ichizoku)
Edgar went to one of his mansions with Allan, who hadn't waken up yet. Edgar killed a husband and wife in a carriage to get energy for Allan. He found an infant girl, Lidell, in the carriage and decided to bring her up.(Penny Lane)
Edgar and Allan traveled around and met a lot of people. (Piccadilly Shichiji, Harukana Kuni no Hana ya Kotori )
In 1934, Orbin met Edgar in London. (Holmes no Boushi) He was enchanted by Edgar and started collecting information on him. He interviewed Lidell, who had been brought up by Edgar and Allan. (Lidelle Mori no Naka)
In 1959, Edgar and Allan went to a boarding school in West Germany to find Robin Carr. (Kotori no Su) In 1966, Orbin held a meeting in his place and showed portraits of Edgar to the attendees. Don Marshall and Teo made a statement of what they had known about Edgar and Allan.(Rampton wa Kataru)
In 1976, Edgar and Allan met Edith Evans who looked similar to Edgar (Edith).
---
Poe Home
Marybell to Gin no Bara
Sukitootta Gin no Kami
Evans no Isho
Poe no Mura
Poe no Ichizoku
Penny Lane
Piccadilly Shichiji
Harukana Kuni no Hana ya Kotori
Holmes no Boushi
Isshuukan
Glen Smith no Nikki
Lidelle Mori no Naka
Kotori no Su
Rampton wa Kataru
Edith
---

more synopses of Hagio Moto titles
Thoma no Shinzou
Onshitsu
Marine
Roma eno Michi