home
Yamagishi
Ooshima
Yoshida
Okazaki
Ima
Yoshinaga
---
Watanabe Masako
Mizuno Hideko
Chiba Tetsuya
---
Nishitani Yoshiko
cover pics
Nishitani Yoshiko was born on August 9, 1943 in Tokyo.
She made her manga debut in Bessatsu Margaret with "Haruko no Mita Yume" in 1965.
"Mary Lou" appeared in Weekly Margaret in 1965. It was REVOLUTIONARY!
Manga fans got a love story of their own age for the first time.
She was the most popular mangaka from 1965 to 1975. She stopped writing in the mid eighties.

Mary Lou was republished in 2003 September!


Other books in print
"Lemon to Sakuranbo" (Soubisha)
"Kouenji atari" (Futabasha)
"Nanako no Seishun" (Shougakkan)
"Hanabira Nikki" (Shougakkan)
"Jessica no Sekai" (Hakusensha)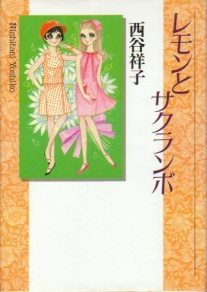 "Lemon to Sakuranbo" ISBN: 4-420-22033-3