home
Yamagishi
Ooshima
Yoshida
Okazaki
Ima
Yoshinaga
---
Watanabe Masako
Mizuno Hideko
Chiba Tetsuya
---
Jessica no Sekai (Jessica's World)
(Serialized in Weekly Margaret in 1967)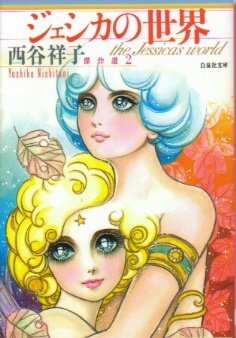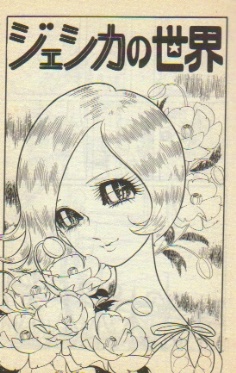 "Jessica no Sekai" Hakusensha Bunko ISBN: 4-592-88269-5
Harry asks a girl the way to the Redfords' house, where he is going to stay as a young artist. Pamela Redford lodges young artists in her house. She invited Harry to come when Harry was painting on the street. The girl says her name is Jessica. Harry sees Jessica again at dinner. She is Pamela's daughter. She introduces him to Don Adams, who's an art dealer. The next morning, Harry sees Pamela in the greenhouse. She doesn't remember him. She tells him to practice painting following Don's advice.
Jessica has four different worlds where she lives. She lives as Pamela's daughter and enjoys talking with young artists in her house. She lives as a student at school. She's respected as a wealthy man's daughter in the society. The world that she loves the most is the world where only she lives. She can be anything, she can talk to everything and she can think of anything she likes there. Harry says he can imagine how much she loves the world because he goes into that kind of world when he's painting.
Don receives a report about Harry from a detective. As he suspected, Harry's real name is Richard Sanford. Richard attracted attention of people 13 years ago since he was a genius painter.
Don takes Harry and Jessica to an art school, where Jessica runs into Simone. Simone is a student there. Simone takes Jessica to her place to serve tea. Mrs. Anderson, who is one of the teachers of Jessica's school comes into the room. Jessica is surprised to hear Mrs. Anderson is Simone's mother. Mrs. Anderson says she hates Jessica because Pamela seduced Mr. Redford when Mrs. Anderson went out with him. She says Mr. Redford is Simone's father.
Don asks Pamela if Simone is Mr. Redford's daughter. Pamela tells him he can find something necessary in a drawer in her room handing him the key.
Harry paints Pamela's portrait and rolls up the paper and throws it away. Jessica has been absent from school since she heard her father was Simone's father. Harry advises she should face the reality, but he knows he can't face the reality either even though he came to Redford's house to do that.
Simone worries about Jessica. Don visits Mrs. Anderson with some papers that prove she married a French man and got divorced after Simone was born. He gives her enough money for her and Simone to live in France for the rest of their life. Mrs. Anderson tells him Pamela had married another wealthy man before she married Mr. Redford. Simone gives him back the money because she doesn't think ther's any reason to receive it. She doesn't think her mother did a right thing. Hearing from Don that her father lives in Paris, she says she'll find him. Don wishes Jessica were as strong as Simone.
Don picks up Pamela's portrait painted by Harry. Don thinks Pamela and Harry look similar and Mrs. Anderson's story could add up. He goes to France to pay a visit to Thomas Sanford. He tells Mr. Sanford that he is there because he got interested in Richard's paintings when he saw one of them. Mr. Sanford says Don must have seen the painting more than ten years ago. He guides Don into a room, where all of Richard's paintings are displayed. Mr. Sanford says he's bought them back because Richard didn't want people to see them. He says Richard began painting after his mother died. Mr. Sanford is alcoholic. Don can't be sure if Pamela is Richard's mother.
Harry takes Jessica to the Regent's park. When two young men come close to Harry and call him Richard, Jessica gets confused and asks Harry if he is cheating her. The two young men leaves them saying they've mistaken Harry as Richard. Barbara has been waiting for them when they come back home. Barbara asks Jessica why she's been absent from school. Jessica says she quit school. Barbara gets angry and tells Jessica that Harry's real name is Richard Sanford. Jessica gets shocked and tells Harry to get out of her house.
Don meets with Pamela in a restaurant. He mentions Richard Sanford. Pamela says she remembers his name. Don takes a phone in the restaurant to hear a detective's report. The detective reports Richard's birth certificate says his mother's name is Pamela. Don can't decide if he should tell that to Jessica or not. When he goes to his shop, he finds Jessica rummaging there. She shows him young Richard's photo and asks Don why he didn't tell her Harry was actually Richard. She says she can't think of anything but him after he left her house. Don says to her that Harry didn't mean to cheat Jessica. He says Harry was painting on the street to know if he was really genious, when Pamela found him. Don tells Jessica that Harry will come back soon. Don visits Harry and persuades him to go back to Redford's house. Harry says he came to Redford's house to know how Pamela lived there since he couldn't hate her even though she'd left him and his father.
When Harry comes back to Redford's house, Jessica is sleeping. She suddenly wakes up and says she dreamed that her father was standing by her with a sad face. The police comes to report Mr. Redford died in India and they say they want to question Pamela because Mr. Redford's death was questionable.
When Don is painting in the underground atelier, the telephone rings. He gets into the shop through the secret door to take the phone and finds an art dealer looking at a painting. The art dealer asks Don if he was paining because he smells of paint. Harry tells Don over the phone that Pamela was taken to the police. The art dealer sees a paint stain on Don's hand and gets sure Don was painting. He gives a call to another dealer and says Don could be producing counterfeit paintings.
When Don arrives at Redford's house, Jessica is in her bedroom. Harry tells Don that Pamela is suspected of killing Mr. Redford. Don says, "That's ridiculous! If she had killed him, she would have made a better job so nobody would suspect her." Harry asks, "Is my mother such a formidable woman?" Don didn't expect this kind of thing to happen so early. He goes to Pamela's room with Harry to find important papers. Jessica hears young artists say Pamela has stolen most of Mr. Redford's assets.
While Don is out, some art dealers find the secret door to Don's underground atelier. They've wondered why Don's shop has so many paintings by world-famous painters. They end up finding counterfeit paintings produced by Don.
Before leaving Redford's house, Don hands an envelope containing important papers to Harry and Jessica and tells them to burn it down if something happens to him. Don gets arrested in front of the house under the charge of producing counterfeit paintings and helping embezzlement. Jessica sees Don being surrounded by policemen through the window. Harry goes outside to know what is going on and tries to chase the car which Don is getting in. Don stops him from coming because he doesn't want Jessica to be left alone. The policemen go into the house to search for evidince of Pamela's crime. Jessica decides to burn down the envelope. Harry thinks he needs to hand the envelope to the police if the papers in it can substantiate Pamela's crime.
When Jessica lights the fire in the fireplace, one of the young artists who is cleaning the chimney drops into the fire and comes out from there with flames on him. The curtain catches the fire and the fire engulfs Redford's house. Seeing the fire, Don forcefully drives the car back to Redford's house and goes into the fire to rescue Jessica.
Don in his death bed tells Harry that Jessica is Don's sister. He and his mother lived in poverty in Paris after his father died. Don was 13 years of age, and his mother was pregnant with Jessica. Then Pamela appeared and gave them money. She needed a baby to win Mr. Redford's love. After Don's mother died, Pamela began taking care of him to keep an eye on him, who knows everything. She also made him help her do dirty business. He wanted to prepare enough money for Jessica to live happily before Mr. Redford got aware she wasn't his daughter. Even though Don was a gifted painter, he didn't have time to wait until he became famous. It was easier to sell the counterfeit paintings for making money. He isn't ready to take care of Jessica yet. He aks Harry to make Jessica happy.
Pamela gets released because Harry went bail for her. He made a large amount of money by selling all his paintings. He tells Pamela that he paid the money for buying back Jessica from her. He's heard Mr. Redford killed himself in a way that people would suspect Pamela because he had known she had stolen his property. Jessica has gone insane because she saw too many dirty things and had a horrible experience. Harry has decided to become Jessica's guardian instead of Don.